Are your tracks due for replacement?
To avoid damage it is important that you choose the right track for the right machine. We will gladly assist you in choosing the proper type of track or profile.

More information? Call our Trackline: 0180 - 322 747
---
New tracks? New sprockets!
Track damage is typically the result of worn sprockets. Sprockets are often not replaced when necessary due to cost conservation.

'These tracks will still last for some time' seems to be the general opinion. However, when we deliver a new set of tracks we always check the sprockets. And wouldn't you know it? Worn down! Sometimes worn down so bad that they have become razor sharp - resulting in damaged tracks. It is also possible that the 'teeth' of the sprocket actually break.

The sprockets will always wear down over time. This results in changed interval sizes and typically you will end up with a broken track. Needless to say: Replacing a sprocket too late will cost you money!

Do you want your tracks to last and really save money? Replace the sprockets when you replace your tracks!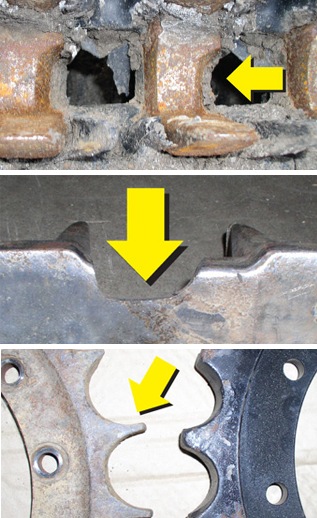 ---
Turn your wheeled schrank loader into a tracked schrank loader!
Heavy, muddy terrain can easily be conquered by mounting these 'quick-to-mount' raakt. Please contact us for further information.